Kankick - Cal I Foreigner EP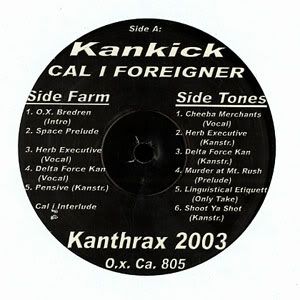 Kankick is a Oxnard native (same place Madlib, Oh No, MED and Wildchild are from) He recorded this EP back in ´98, but didn't release it until ´03. There was only 400 copies of this pressed up.
01. O. X. Bredren (Intro)
02. Space Prelude
03. Herb Executive (Vocal)
04. Delta Force Kan (Vocal)
05. Pensive (Kanstrumental)
06. Cal I Interlude
07. Cheeba Merchants (Vocal)
08. Herb Executive (Kanstrumental)
09. Delta Force Kan (Kanstrumental)
10. Murder At Mt. Rush (Prelude)
11. Linguistical Etiquette (Only Take)
12. Shoot Ya Shot (Kanstrumental)
http://rapidshare.com/files/189910635/Kankick_-_Cal_I_Foreigner_EP-www.champion-sounds.blogspot.com.rar
Kankick's MySpace:
http://www.myspace.com
/kanzuluxperience
I think there's a few copies still available over at
hhv
So make sure you peep them.